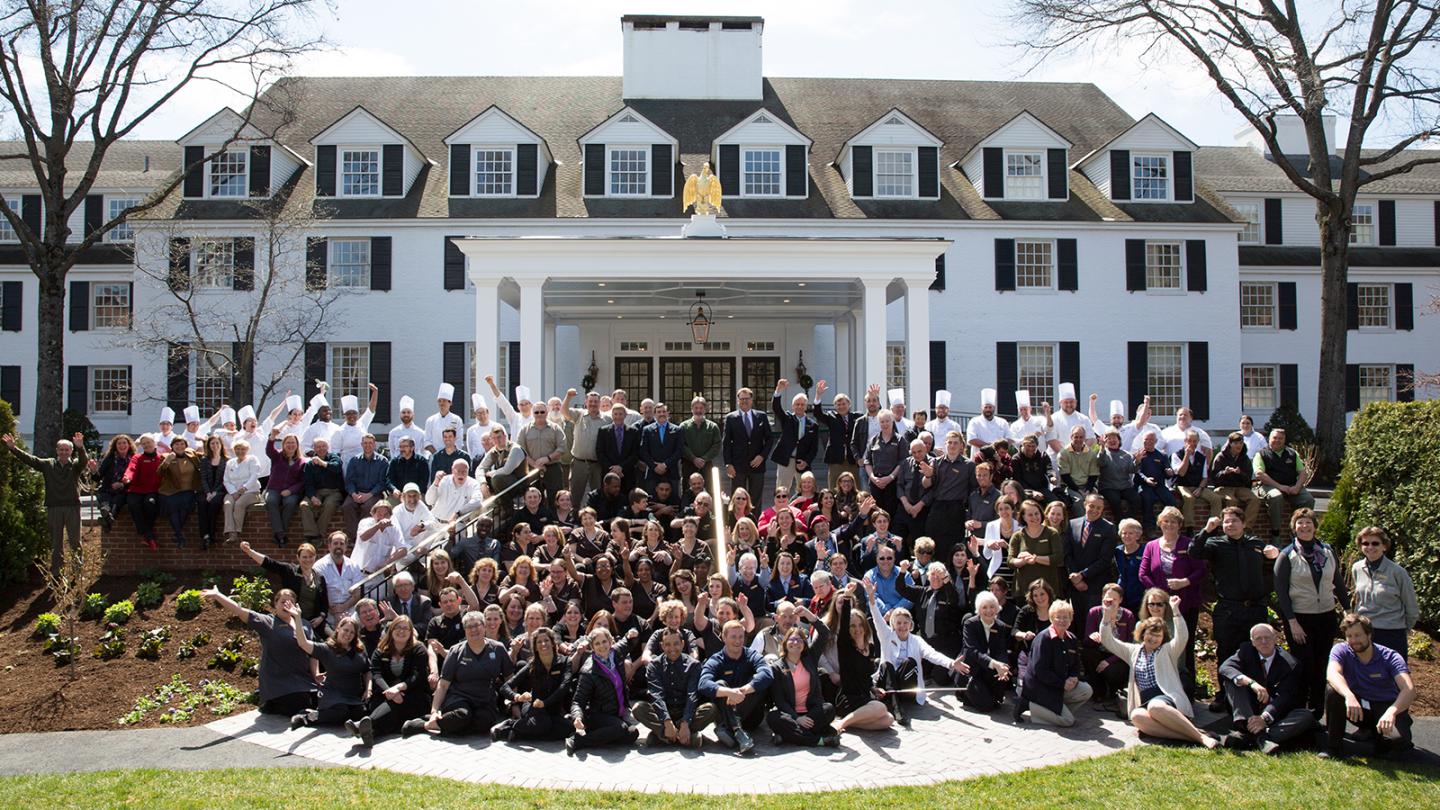 Create your own legacy at Vermont's most beautiful address.
The Woodstock Inn & Resort offers various job opportunities for hospitality professionals with a love for Vermont's landscape, its people, and the unbeatable charm of the surrounding community.
Benefits Include
Group Medical and Dental Insurance

Vision Insurance

Health Care Reimbursement Account

Life Insurance, Short Term, and Long Term Disability Programs

Vanguard 401 K program with company match

Vacation and Personal Holidays

Employee Referral Bonus Program

Employee Wellness Programs and Incentives

​Employee Assistance Program
Recreational Privileges: Golf, Alpine and Nordic Skiing, Snowboarding, Athletic Club including a menu of free Fitness Classes, Tennis, Mountain Biking, and more!
​Spa Discounts
Restaurant and Resort Shop Discounts
Billings Farm & Museum Discounts
​Tuition Refund Program
Uniforms provided for most positions
​Housing opportunities on a space available basis
Top Ten Reasons to Work at the Woodstock Inn & Resort
10. Vermont. The #1 destination brand in the northeast and among the ten best states to live in! Home of maple syrup, The Green Mountains, and the best beer and cheese in America!
9. Woodstock. The prettiest small town in America. Don't ask us; ask Conde Nast Traveler… or Yankee Magazine… Travel & Leisure…
8. Farm-to-Table. Vermont practically invented it. We perfected it. Our own Kelly Way Gardens produces over 20,000 pounds of organic veggies every year… exotic mushrooms and honey, too!
7. The Laurance Rockefeller legacy. Mr. Rockefeller's Woodstock Foundation owns both The Woodstock Inn & Resort and Billings Farm & Museum, and strengthens our connection to our community. The profits we make at the resort go to teach little kids how to make butter, and we think that's pretty important. It makes us feel good, too!
6. Duh… Saskadena Six, America's oldest and most beloved ski area! We own it; we love it, and we all ski for free! Oh yeah, there's also the Nordic Center, the Woodstock Athletic Club, the Woodstock Country Club, and more… available for all resort employees to use and enjoy!
5. The Great Outdoors. We have over 20 miles of great trails for hiking, biking, horseback riding, and skiing right in the village; not to mention more dirt roads per capita than any other state in America; fly fishing (did we mention our Orvis-endorsed fly fishing center?). Oh, and the Appalachian Trail passes through town, so you can walk to Georgia or Maine on your day off!
4. Career-building. Opportunities abound, from entry level to a career path. We promote from within and cross train, so you can gain the skill set you need to explore the industry and find your niche!
3. Benefits. Free recreation and the fun of living in Vermont aren't enough? Well, how about flexible scheduling, casual and full-time opportunities, free meals in our staff cafeteria? Discounts on Food and Beverage in all our outlets? Savings in all our shops and at The Spa? Paid personal days and generous vacation time for full-time folks? Subsidized continuing education? Terrific health and life insurance programs? Wellness incentives? An awesome 401(k) fund with matching contributions?
2. A winning team! Communication, cooperation, and collaboration are essential to us, and with over 300 of us pushing in the same direction regardless of our department or role, you know we're just going to keep getting better!
1. We make good things happen for other people- all day, every day. If you can't imagine a better job description than that, then maybe, just maybe, the Woodstock Inn & Resort is the place for you!