Shop the Spa online or in person.
The Spa at Woodstock Inn & Resort seeks out the most natural and organic skin care products for our guests. A variety of nutrient-rich lotions and oils gently exfoliate, rejuvenate, purify, or hydrate all skin types. Shop our created selection of products available online, or come by the Spa for our full retail offerings.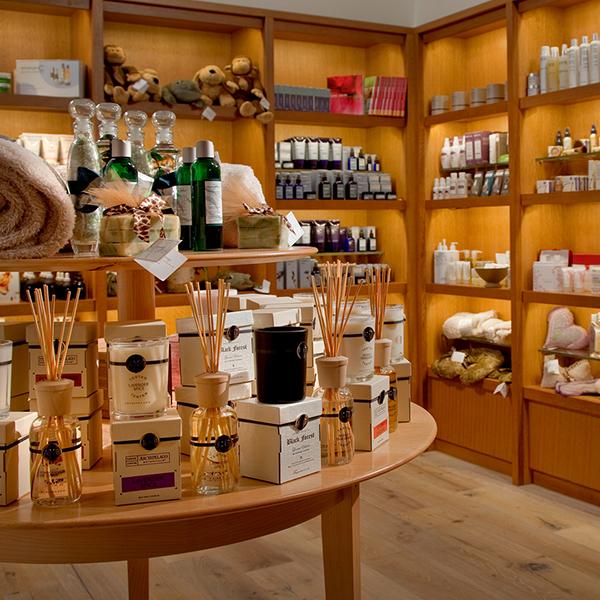 The Boutique at the Spa showcases the products that are featured in our one of a kind treatments, along with various other gift-able and usable items. Choose from our wide variety of candles, luxurious body lotion or bath salts. Your skin will thank you for using nourishing products that are free of sulfates, parabins and other irritants. In our LEED certified facility we offer products that will improve the body and mind as well as work only with vendors that share this same philosophy. We offer pure essential oils by Body Bliss and are happy to share our knowledge of their many uses and benefits. For your skincare needs we carry Naturopathica, Dr Dennis Gross and emerginC product lines both of which are featured in our facials. For that special evening you can schedule a makeup application using Jane Iredale mineral makeup. Don't forget to purchase some from the Boutique to create your own fabulous look at home.
Our Product Partners
Naturopathica - Inspired by nature and drawing from traditional healing practices, Naturopathica remedies and rituals are created to rejuvenate, comfort and enhance everyday lives. Naturopathica's approach to skincare addresses the primary cause of premature aging in the skin- inflammation and over-stressed skin caused by irritating ingredients and the environment. Naturopathica uses proven ingredients such as seed oils, probiotics, and botanical extracts to nourish the skin barrier and enrich our formulas with clean cosmeceuticals: plant stem cells, AHAs, retinols and peptides that provide real benefits to the skin.  Every ingredient is carefully curated to promote skin health, restore skin youthfulness and delight the senses for overall well-being.
emerginC - emerginC began in 1996 with one of the most stable and effective vitamin C serums available. They now have approximately 85 products and a wide variety of treatment options from both their emerginC signature and scientific organics ranges. emerginC never compromises their commitment to quality and effectiveness. They work with the top chemists and state-of-the-art labs to incorporate clinically proven cosmeceuticals and medical grade ingredients, actives botanicals, and marine extracts. emerginC has taken an industry leading role in giving back and sustainability with their industry-first emerginBees bee habitat initiative as well as their industry-first emerginCeeds organic vegetable program, while taking pains to source ethically and sustainably wherever possible, including the use of fair trade ingredients. emerginC delivers the products and results you need to succeed, all with an eye to sustainability, giving back, and lighting the way for a better community – for all of us – to emerge.
Body Bliss - Body Bliss products are formulated using pure, highly efficacious ingredients to enhance the health and well-being of therapists and clients alike. There are no parabens, sulfates, phthalates, or mineral oils used and only the finest organic and therapeutic grade essential oils.  Headquartered near Sedona Arizona, Body Bliss is a U.S. leader in the formulation and production of natural and therapeutic spa products.
Dr. Dennis Gross - Dermatologist Created Potent and Proven Ingredients. B.oard-certified dermatologist and dermatologic surgeon Dr. Dennis Gross created the award-winning Dr. Dennis Gross Skincare, inspired by the skincare concerns of his patients.  In his practice and with his skincare line, Dr. Dennis Gross strives to give every patient natural but refined, refreshed and radiant skin utilizing the very latest state-of-the-art dermatologic technology and carefully selected powerful  yet gentle ingredients. Whether your concern is signs of aging including uneven skin tone, dullness, enlarged pores, dryness, or acne. You'll see visible results with advanced ingredient combinations and medical grade formulas – without irritation. Our products are never tested on animals – and most are vegan.
Farmhouse Fresh - From their Ranch and Sanctuary in McKinney,Texas Farmhouse Fresh develops and hand assembles exquisite products that are delightful, nostalgic and whimsical.  Each product is Paraben and Sulfate free and many are Vegan and Gluten-Free as well.  Using up to 99.6% natural and naturally-derived ingredients like wild honey, yogurt, clay and pumpkin harvested from U.S. farms.  The FHF Ranch is also a sanctuary for animals and their team donates time and resources each month to supporting the rescue, transport, funding and fostering of forgotten and abused animals.   Be pampered, have fun and save something furry!
ZENTS - Founded in beautiful Boulder, Colorado ZENTS was born out of one man's healing journey, with a mission of helping and uplifting people. Each ZENTS formula is infused with a stress-busting Zen Blend tonic made from organic flower essences to boost happiness and calm. Luscious formulas infuse the skin with opulent organics, natural anti-agers and superior hydrators.  Sophisticated, gentle aromas have endeared ZENTS to people with scent sensitivities. Exquisite worn alone, the collection is also fully compatible and can be mixed and layered to create your own bespoke aroma. Come find your Zen!